Moving to Victorville

Why on earth would anyone choose to move to the hot High Desert?
If you are considering moving to Victorville in the near future, make sure you read this article first! After all, you want to know what you're getting yourself into, right?
As a transplant myself, I will give you my unbiased opinion of Victorville and surrounding cities. You'll see that compared to most other major cities, moving to Victorville and buying a home here is still extremely affordable.
The good thing about the Victor Valley area is that it's pretty big (geographically speaking) and there are plenty of places with different communities to choose from. I've written this article to help you figure out where to live if you decide that moving to the High Desert is the right thing for you.  
The basic Victorville areas to consider are:
Eagle Ranch
Messa Linda
Diamond Ridge
Spring Valley Lake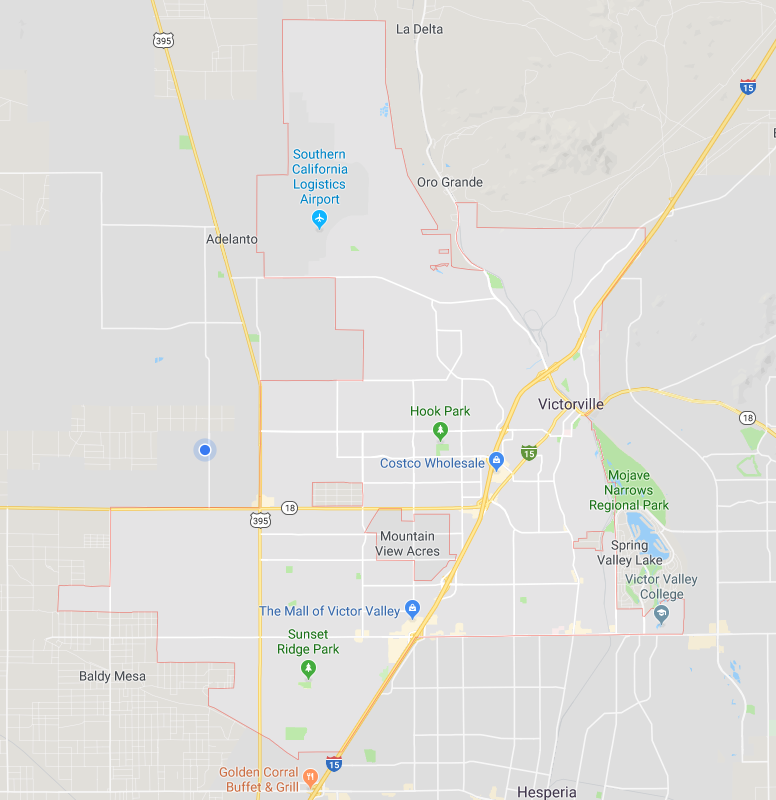 So you're thinking of moving to Victorville…
If you haven't spent much time here, you probably picture people staying inside of their houses all day because of the weather!
Ok, so that's kind of true. 
There are 2 golf courses in Victorville, Green Tree Golf Course, and Spring Valley Lake Country Club, and it's 3 hours drive to Las Vegas (about 225 miles to the North via I-15 Freeway)
Before we get into our Top 4 Reasons for Moving to Victorville let's get the boring stuff out of the way.
Victorville is located in the Southwestern edge of the Mojave Desert and is bordered by Apple Valley to the East, Hesperia to the South and Adelanto to the West. The Elevation at City Hall is approximately 2.950 feet above sea level.
Population (2017) 122,441
Biggest Industries in Victorville: Southern California Logistics Airport, Victor Valley College, Desert Hospital, Frontier, Victor Valley Union High School District, Federal Correctional Complex, Victor Valley Community Hospital, and Walmart
The median Home Prices(for single family house Q1 2019): Victorville – $265,000, Apple Valley – $273,000, Hesperia – $298,000, Adelanto – $218,000
Closest major airports: Ontario International Airport (ONT) about 30 minutes drive with no traffic, John Wayne Airport (SNA) about 1 h 30 min, Los Angeles International Airport (LAX) about 1 h 50 min, Bob Hope Airport (BUR) about 1 h 35 min, Long Beach Airport (LGB) about 1 h 45 min.
How far is the beach? About 1 hour 30 minutes to 2 hours to Newport Beach, Laguna Beach, Huntington Beach, Seal Beach, Long Beach, and Santa Monica.
So without further ado, let me tell you 4 reasons why moving to Victorville is a great idea!
1. Victorville housing price is at times half the price of any Orange or Los Angeles Counties prices, don't get me started about the age of the homes. I moved to Victorville back in 2007 from Santa Ana and fell in love with the High Desert living, saw how inexpensive it was to live here and so I made it my home city.
2. Victorville is Very Friendly. Several weeks ago I asked people in a Facebook group to give me 3 reasons why they liked living in the High Desert cities and most said how friendly it is, they like the air quality, very peaceful, not much traffic, and spacious houses among the things…
3. Victorville Weather is Awesome! High Desert cities are known by it's unique and moderate weather patterns. Official records show that Victorville has a cold desert climate with four distinct seasons. We have an average of 109 days with highs of 90 degrees or higher and an average of 79 days with lows of 32 degrees or lower, yup, we get black ice in winter and sometimes snow.
4. Moving to the High Desert (HD) means more bang for your buck! Homes for sale in Victorville are some of the affordable in Southern California. Whether you're searching for new construction or luxury home at a lake, you'll find it here for MUCH less then they'd cost in let's say Anaheim, Fullerton, Santa Ana, Diamond Bar, Pomona, San Dimas, Upland, Rancho Cucamonga, and the list goes on…
To put our low cost of living in perspective, let's say you now live in Anaheim and you make $80,000. Your house cost $550,000 compared to Victorville $265,000, a $285,000 difference!  So by moving to Victorville, you could make more like $50,000/year and still have a better standard and cost of living. The cost of living in the High Desert is less than Orange County.
Final Thoughts on Moving to Victorville
Whether you're definitely moving to the High Desert area or are just considering it, as you can now see it really is a fantastic place to live, work, and play.  If you're seriously thinking about moving to one of the High Desert cities, or just have a few more questions before deciding, please don't hesitate to contact me with any questions about the Victorville and surrounding areas.
Still, have questions about a potential move to Victorville? You can get in touch with me by shooting me a text at 760-881-4274.  I can provide you with whatever information you're looking for, or at least point you in the right direction.
If you enjoyed this article, please consider sharing these "4 Reasons Why You Should Consider Moving to Victorville" with your friends via social media. Sharing is caring!
Are you ready to buy a home? Check this article "Top 10 Myths That Trip Up First-Time Home Buyers"